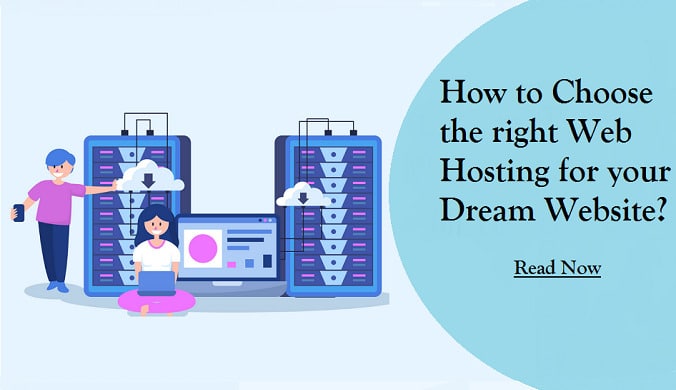 Do you want to start your own blog or business website? Are you thinking about how to choose the right web hosting for your dream website? If yes, then I must say that you are in the right place. Read this blog that I have written here with my own experience.
This will surely help you to choose the right web hosting and also help you to gain the knowledge about basic requirements to run a successful website. In this era, You don't need a developer or spend too much bucks and time to build your website.
Because today there are so many hosting companies are available with various online tools that can help you to build your website easily. But if you want to do more with your website then you need to choose the web hosting carefully. So you must consider the following points to increase your or your site's online presence.
Important Points to Choose the right Web Hosting
Before choosing the web hosting, the following important points should be kept in mind in respect of your  specific need. The type of website you want to run is also an important point to choose the right web hosting. Therefore think for the following points at first:-
Type of website you need to run viz a Blog Website, a news website or an e-commerce website.
Type of web hosting you prefer i.e. Shared Hosting, VPS Hosting, Dedicated Hosting, WordPress Hosting etc.
How much disk space you need i.e. if you want to run an e-commerce website then you must need higher space limit because you need to store unlimited images or videos for your products.
How much bandwidth the host will provide to you. Because the more bandwidth, the more website visits you get from the users.
How much physical memory or RAM the host will provide you because this is important for website performance and loading speed that effects user experience.
Other technical resources that you may also consider for best performance i.e. type of CPU's, Database Storage size, Server Location etc.
What is the pricing for hosing plans they are giving on new purchase as well as on renewal. Although you can check some exciting and money saving coupons & deals on Web Hosting from the leading hosting companies like Hostgator India, Bigrock, Interserver, iPage, Turnkey Internet etc.
Last but most important point is how fast the hosting support they will provide you. Because at any moment any difficulties you face in respect to the hosting, you need the hosting support with proper resolution as fast as possible.
All of the above points are most important if you want to run your website most efficiently. Today, millions of websites are present in the internet and that leads to more competition in web presence.
Therefore, whatever the type of website you want to run, these basic things you need to keep in mind i.e. the site performance, page loading speed, website security and better user interface (UI).
An unhealthy website performance and slow speed will lead more bounce rate. You may consider bounce rate as the users clicks on your web page but soon leaves the page without reading it because the page failed to load within the user's expected loading time.
These will also effect on the popularity of your website because once an user leaves your web page the this user will never come again to visit your website and you will lose all of your effort, time and money that invested.
Now, a proper web hosting plan is also an important point that you need for better website performance. Therefore, I am giving you some basic idea about the type of hosting mentioned in the point number 2 above. If you are an experienced and new to this platform then you need to get these basic ideas about web hosting types before you are going to choose the right web hosting plans.
How to choose the right Shared Web Hosting:
This is a type of web hosting where a single physical server hosts multiple sites. Many users utilize the resources on a single server, which keeps the costs low. Although, shared hosting offers the most cost-effective way to get a site online since the costs of maintaining a server are split among all the users.
This style of hosting is best suited for a small website or blog that doesn't require advanced configurations or high bandwidth. Since shared hosting is not sufficient for sites with high traffic, high volume sites should look to VPS or dedicated hosting solutions instead.
How to choose the right VPS web hosting:
VPS refers to the partitioning of a physical server into multiple ones. Since each VPS or Virtual Private Server features its own Operating System (OS), it receives a specific share of resources from one physical server so they are isolated, unable to interfere and can be separately rebooted.
VPS web hosting is ideal for web developers, bloggers, resellers, and e-commerce owners, VPS hosting offer top security, flexibility if and when your business scales in size, independence from neighbors, and full control over your hosting environment.
How to choose the right Dedicated Web Hosting:
A Dedicated Server refers to a physical machine with all the resources reserved for your usage. Offering airtight security and customized control, it's ideal for those who are more tech-savvy and for businesses that are resource-intensive, handling a considerable amount of daily traffic.
How to choose the right WordPress hosting:
This is just hosting that has been optimized to better meet WordPress' performance and security needs. It also typically includes one-click WordPress installs to make it easy to get started with WordPress Hosting. And some WordPress hosts like Bluehost will even automatically update your WordPress software as needed.
Hope this Article helped you to Choose the right Web Hosting. You can read more articles and information related to web hosting at CBS NEWS IN. We are publishing web hosting articles and news regularly to keep you update.